Uganda: Today

Key statistics published by the World Bank (2008)

Country profile data published by the World Bank (September 2008)

Government and institutions
Country name: Uganda
long form: Republic of Uganda
Government type: republic
Capital: Kampala
geographic coordinates: 0.19 North, 32.25 East
time difference: UTC+3
Administrative divisions:
56 districts; Adjumani, Apac, Arua, Bugiri, Bundibugyo, Bushenyi, Busia, Gulu, Hoima, Iganga, Jinja, Kabale, Kabarole, Kaberamaido, Kalangala, Kampala, Kamuli, Kamwenge, Kanungu, Kapchorwa, Kasese, Katakwi, Kayunga, Kibale, Kiboga, Kisoro, Kitgum, Kotido, Kumi, Kyenjojo, Lira, Luwero, Masaka, Masindi, Mayuge, Mbale, Mbarara, Moroto, Moyo, Mpigi, Mubende, Mukono, Nakapiripirit, Nakasongola, Nebbi, Ntungamo, Pader, Pallisa, Rakai, Rukungiri, Sembabule, Sironko, Soroti, Tororo, Wakiso, Yumbe
note: as of a July 2005, 13 new districts were reportedly added bringing the total up to 69; the new districts are Amolatar, Amuria, Budaka, Butaleja, Ibanda, Kaabong, Kabingo, Kaliro, Kiruhura, Koboko, Manafwa, Mityana, Nakaseke; a total of ten more districts are in the process of being added .
Independence day and National holiday: 9 October 1962 (from UK)
Constitution: 8 October 1995; in 2005 the constitution was amended removing presidential term limits and legalizing a multiparty political system .
Legal system: in 1995, the government restored the legal system to one based on English common law and customary law; accepts compulsory ICJ jurisdiction, with reservations .
Suffrage: 18 years of age; universal
Executive branch: chief of state:
President Lt. Gen. Yoweri Kaguta MUSEVENI (since seizing power 26 January 1986); the president is both chief of state and head of government .
Prime Minister Apollo NSIBAMBI (since 5 April 1999); note - the prime minister assists the president in the supervision of the cabinet
Cabinet: Cabinet appointed by the president from among elected legislators
Elections: president reelected by popular vote for a five-year term; election last held 23 February 2006 (next to be held in 2011)

election results: Lt. Gen. Yoweri Kaguta MUSEVENI elected president; 59.3% of vote - Kizza BESIGYE 37.4%, other 3.3%
Legislative branch: unicameral National Assembly (332 seats; 215 members elected by popular vote, 104 nominated by legally established special interest groups [women 79, army 10, disabled 5, youth 5, labor 5], 13 ex officio members; to serve five-year terms) ;
Legislative elections: last held 23 February 2006 (next to be held in 2011)
election results: percent of vote by party - NA; seats by party - NRM 191, FDC 37, UPC 9, DP 8, CP 1, JEEMA 1, independents 36, other 49
Judicial branch: Court of Appeal (judges are appointed by the president and approved by the legislature); High Court (judges are appointed by the president).
Political parties and leaders:
Conservative Party or CP [Ken LUKYAMUZI]; Democratic Party or DP [Kizito SSEBAANA]; Forum for Democratic Change or FDC [Kizza BESIGYE]; Justice Forum or JEEMA [Muhammad Kibirige MAYANJA]; National Democrats Forum [Chapaa KARUHANGA]; National Resistance Movement or NRM [Yoweri MUSEVENI]; Ugandan People's Congress or UPC [Miria OBOTE]
note: a national referendum in July 2005 opened the way for Uganda's transition to a multi-party political system .
Political pressure groups and leaders: Popular Resistance Against a Life President or PRALP
International organization participation:
ACP, AfDB, AU, C, COMESA, EAC, EADB, FAO, G-77, IAEA, IBRD, ICAO, ICCt, ICRM, IDA, IDB, IFAD, IFC, IFRCS, IGAD, ILO, IMF, Interpol, IOC, IOM, IPU, ISO (correspondent), ITSO, ITU, ITUC, MIGA, NAM, OIC, OPCW, PCA, UN, UNCTAD, UNESCO, UNHCR, UNIDO, UNMIS, UNWTO, UPU, WCO, WFTU, WHO, WIPO, WMO, WTO.
Flag:
Six equal horizontal bands of black (top), yellow, red, black, yellow, and red; a white disk is superimposed at the center and depicts a red-crested crane (the national symbol) facing the hoist side.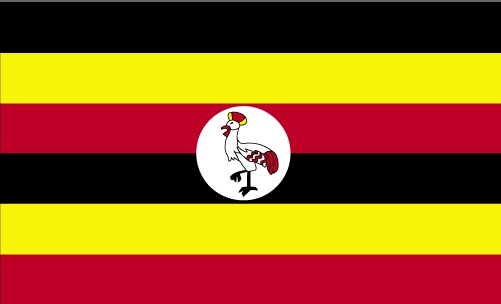 Currency: Ugandan Shilling UGX: as of August 22 2007, 1 USD = 1 750 UGX, 1 Euro €=2 400 UGX 1 GBP=3 500 UGX
Source http://coinmill.com/
Uganda press:
Uganda Daily
The Monitor
Uganda FM
Uganda headlines
Sunday Vision
The New Vision
Economy - overview:
Uganda has substantial natural resources, including fertile soils, regular rainfall, and sizable mineral deposits of copper and cobalt. Agriculture is the most important sector of the economy, employing over 80% of the work force. Coffee accounts for the bulk of export revenues. Since 1986, the government - with the support of foreign countries and international agencies - has acted to rehabilitate and stabilize the economy by undertaking currency reform, raising producer prices on export crops, increasing prices of petroleum products, and improving civil service wages. The policy changes are especially aimed at dampening inflation and boosting production and export earnings. During 1990-2001, the economy turned in a solid performance based on continued investment in the rehabilitation of infrastructure, improved incentives for production and exports, reduced inflation, gradually improved domestic security, and the return of exiled Indian-Ugandan entrepreneurs. In 2000, Uganda qualified for enhanced Highly Indebted Poor Countries (HIPC) debt relief worth $1.3 billion and Paris Club debt relief worth $145 million. These amounts combined with the original HIPC debt relief added up to about $2 billion. Growth for 2001-02 was solid, despite continued decline in the price of coffee, Uganda's principal export. Growth in 2003-06 reflected an upturn in Uganda's export markets.
Agriculture - products:
coffee, tea, cotton, tobacco, cassava (tapioca), potatoes, corn, millet, pulses, cut flowers; beef, goat meat, milk, poultry
Industries - products:
sugar, brewing, tobacco, cotton textiles; cement, steel production
Industrial production growth rate: 5.2% (2006 est.)
Electricity - production: 1.894 billion kWh (2004) - consumption: 1.596 billion kWh (2004)
exports: 165 million kWh (2004) - imports: 0 kWh (2004)
Exports: USD 961.7 million f.o.b. (2006 est.)
commodities: coffee, fish and fish products, tea, cotton, flowers, horticultural products; gold
partners: Belgium 9.8%, Netherlands 9.2%, France 7.8%, Germany 7.5%, Rwanda 5.5%, Sudan 4.7% (2006)
Imports: USD 1.945 billion f.o.b. (2006 est.)
commodities: capital equipment, vehicles, petroleum, medical supplies; cereals
partners: Kenya 34.6%, UAE 8.7%, China 7.2%, India 5.6%, South Africa 5.5%, Japan 4.3% (2006)
Transnational issues
Disputes - international:
Uganda is subject to armed fighting among hostile ethnic groups, rebels, armed gangs, militias, and various government forces that extend across its borders; Uganda hosts 209 860 Sudanese, 27 560 Congolese, and 19 710 Rwandan refugees, while Ugandan refugees as well as members of the Lord's Resistance Army (LRA) seek shelter in southern Sudan and the Democratic Republic of the Congo's Garamba National Park; LRA forces have also attacked Kenyan villages across the border .
Refugees and internally displaced persons:
refugees (country of origin): 212 857 (Sudan), 20 564 (Democratic Republic of Congo), 20 213 (Rwanda) ; IDPs: 1.2-1.7 million (350 000 IDPs returned in 2006 following ongoing peace talks between the Lord's Resistance Army (LRA) and the Government of Uganda) (2006)
---
Updated on 16/08/2017 by Pierre Ratcliffe Consultant to MISA/Nilefos Contact through Nilefos: (npk@madhvani-misa.com)